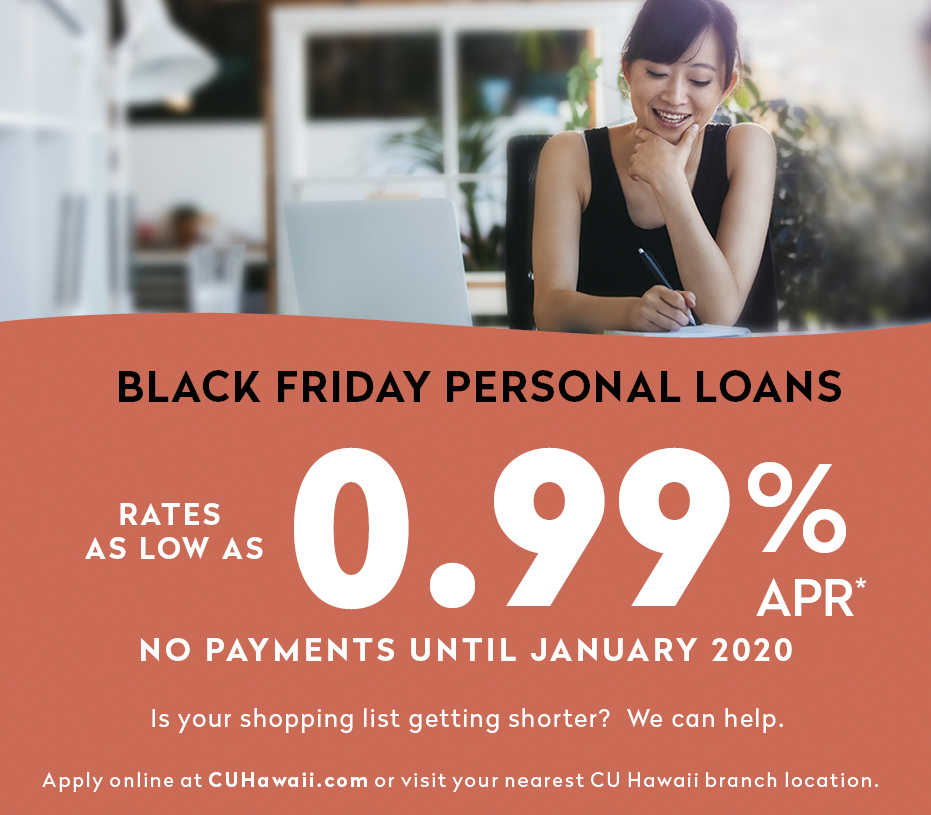 MORE POSSIBILITIES... TO BECOMING DEBT FREE!
ONLY 2 more days until the end of this promotion: Friday the 15th.
The holidays are over, but now the bills are HERE!
Here are some reasons to apply for a CU Hawaii personal loan, consolidate your debt and get closer to being debt free.
You go into SHOCK when you see your COMBINED credit card payments!

When consolidating your bills with a personal loan, your monthly payment may be much lower than your combined minimum payments on your high interest store credit cards.

Your credit card interest is 17%APR* or higher!

Upon approval, your lowest rate may be as low as 2.99%APR.
The highest interest rate will NOT be higher than 8.99% APR upon approval of your new personal loan.*

It will take you 20+ YEARS to payoff your HIGH INTEREST credit card bills

With this promotion, your longest term will be 60 months (5 years).
Paying the minimum payments on your store credit cards could take up to 20+ years to pay off your balance.
Don't try to get rid of your debt the HARD WAY. Let CU Hawaii help you get to your goal!
---
**APR=Annual Percentage Rate. The stated monthly payment is based on a $10,000 loan at 8.99% annual percentage rate for 60 months. Payment example: A loan of $10,000 with 8.99% APR with a 60 month term will have 60 monthly Principal and Interest payments of $207.57 which includes $2,453.51 total interest paid. $15,000 maximum loan amount. Certain restrictions apply. Member must qualify under CU Hawaii's membership and lending guidelines. Other rates and terms available. No other discounts apply. Rates good from 2/1/19 to 2/15/19. Offer may end at anytime without notice. FEDERALLY INSURED BY NCUA.
.